June 1, 2022, Lawyers and Judges Publishing released "Kansas DUI Defense, The Law and Practice". This is the manual for lawyers handling DUI cases in Kansas and covers everything an attorney needs to know about Kansas DUI cases. You can find the book at Lawyers and Judges website or from Amazon.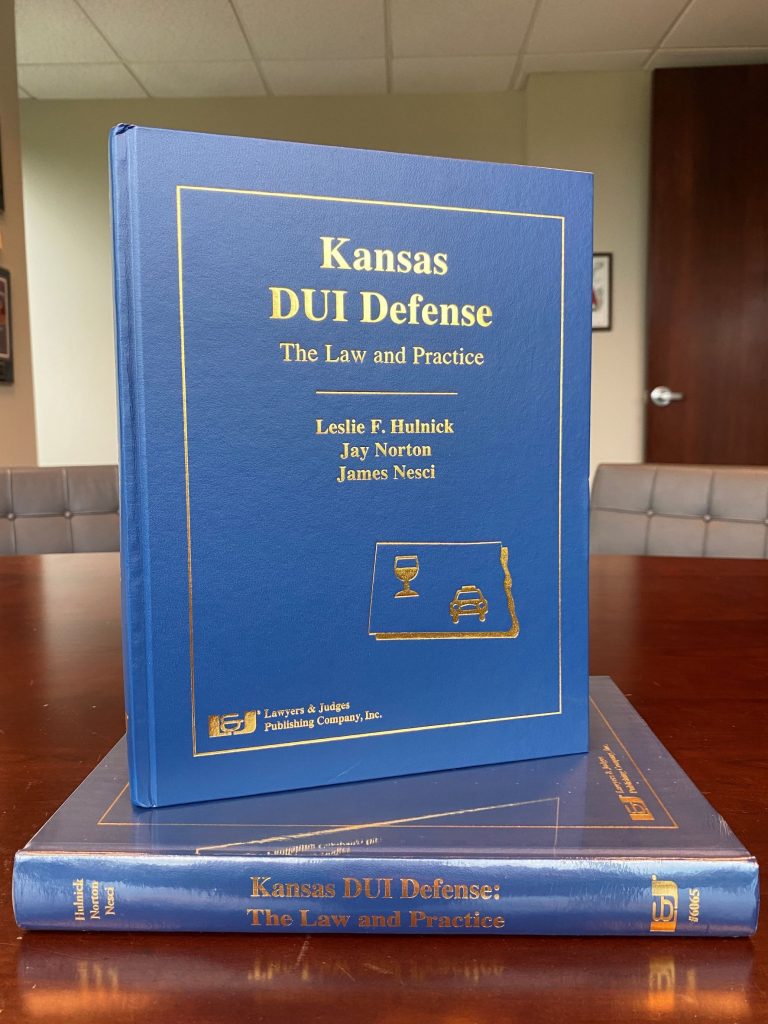 From the publisher:
For even the most seasoned attorney admitted to practice in the state of Kansas, defending DUI cases has always presented special challenges. Today mounting a successful defense is more difficult than ever. Now you have the advantage with Kansas DUI Defense: The Law and Practice. This text and supplementary DVD contains the most important information to help you attain a successful verdict.
Written by Jay Norton, Leslie Hulnick, and James Nesci, Kansas DUI Defense: The Law and Practice ensures that you understand the chemical, biological and technological concepts and issues underlying DUI prosecution and defense in the State of Kansas. The authors provide the most up-to-date information available on key areas of DUI law in Kansas including: DUI investigations, Field Sobriety Testing, Drug Recognition Evaluation, Blood and Breath Testing, Blood Alcohol Calculations, Pre-Trial Motions and Practice, Trial Practice, Sentencing and Probation, and much, much more!
for law practice, newly developed science and technology for testing blood and other substances to include liquid chromatography and mass spectrometry, the new Kansas breath test protocol, field sobriety testing (2013 and 2015 SFST Manuals), blood and breath testing uncertainty, boating under the influence and related offenses, the most current Kansas statutory law, and much more, making this text the single most important book to have with you during all phases of a DUI case, from the initial client call to your office to the conclusion of the trial phase.
Many practical tips and text notes are included throughout the book to assist the attorney in preparing and presenting an effective defense. Included on the bonus DVD are practice forms and motions specifically keyed to Kansas law that will greatly assist the busy defense attorney. They are all included on the bonus DVD so you can locate, review, and print them out in a matter of seconds. The bonus DVD icontains all new material, including the NHTSA 2013 and 2015 SFST and DRE Manuals, studies, articles, and visual detection videos.
Included are the NHTSA Student and Instructor Manuals for 2013 & 2015, the DRE pre-School & DRE School Manuals, and the ARIDE for 2013—the latest edition from NHTSA! Some vendors sell these together for $400 or more. They are all included on the DVD at no extra charge!
Lawyers & Judges has published twenty-one state-specific DUI defense reference books. A practitioner in Colorado raved in the Colorado Lawyer that Colorado DUI Defense: The Law and Practice is "a must-have resource" and would make "a nice gift for the lawyers in your life who practice DUI defense." The Wisconsin Lawyer reviewer gave Wisconsin OWI Defense: The Law and Practice a touchdown review, calling the book "the best book I have read pertaining to Wisconsin operating-while-intoxicated (OWI) law, and one of the best in dealing with the substance of OWI law."Book Chapter Topics Include:
Chapter 1: Lawyer Advertising
Chapter 2: Basic Client Relations
Chapter 3: Collateral Consequences
Chapter 4: Driver License Actions Kansas Department of Revenue
Chapter 5: Driving, Boating & Flying Under the Influence
Chapter 6: Pre-Trial Investigations
Chapter 7: Pre-Trial Motion Practice
Chapter 8: Jury Selection, trial, Sentencing and Plea Deals
Chapter 9: Police DUI Investigations: Driving, Boating, and Field Sobriety Testing
Chapter 10: Drug Recognition Evaluation
Chapter 11: Breath Testing for Alcohol
Chapter 12: Blood & Urine Testing for Alcohol and Drugs
Chapter 13: Blood Alcohol Calculations for Attorneys